In the heart of Roanoke, Virginia lies a treasure trove of artistic marvels, waiting to be discovered and admired. With so many beautifully unique and wonderfully detailed murals, our downtown area is a testament to the thriving creative spirit that permeates our community.
Inspired by the several captivating murals, we wanted to embark on an immersive exploration of the numerous other vibrant murals adorning our beloved local downtown. We sincerely hope that you not only acquire knowledge about these remarkable pieces but also have the opportunity to personally visit them, allowing you to fully immerse yourself in their exquisite beauty!
James Bullough, assisted by Thomas Jay Turner (2018)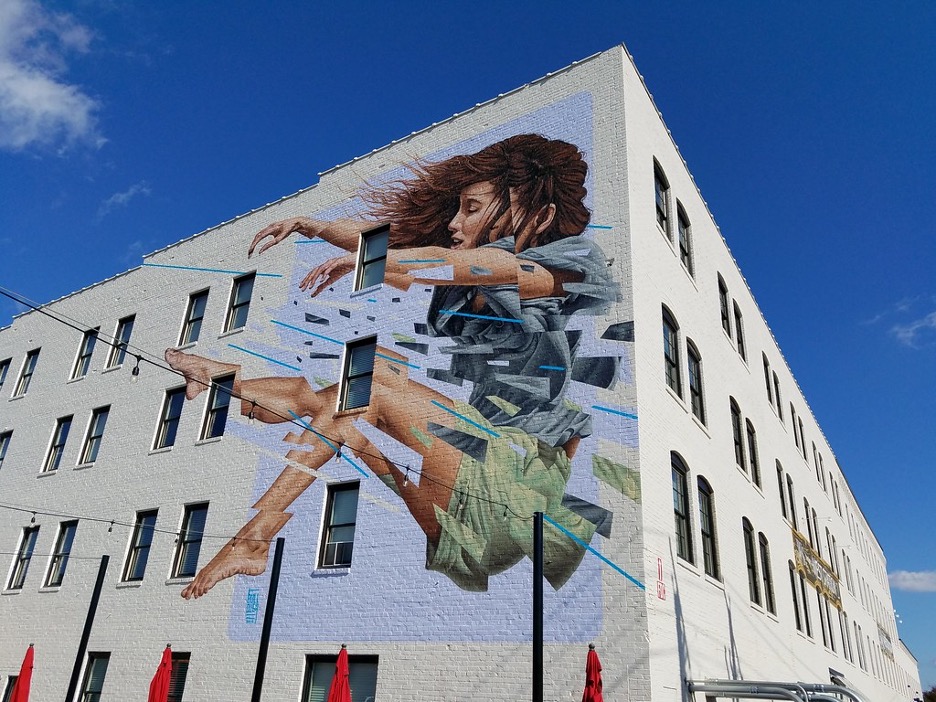 Painted on the side of The Lofts at West Station, Bullough depicts a woman gracefully descending backwards in a fragmented composition. The exact interpretation of this piece is intentionally open-ended, allowing each viewer to conclude their own connotation about its true meaning. As reported by TheRoanokeStar.com, Bullough, an accomplished artist, has completed several other remarkable murals, with the installation on Salem Avenue a "medium sized" creation as compared to his previous work!
Read the full story here: https://theroanokestar.com/2018/05/01/public-art-comes-to-salem-avenue-in-big-way/
2. "Accentuated Forms in Space" by Dorothy Gillespie (1979 and 2023)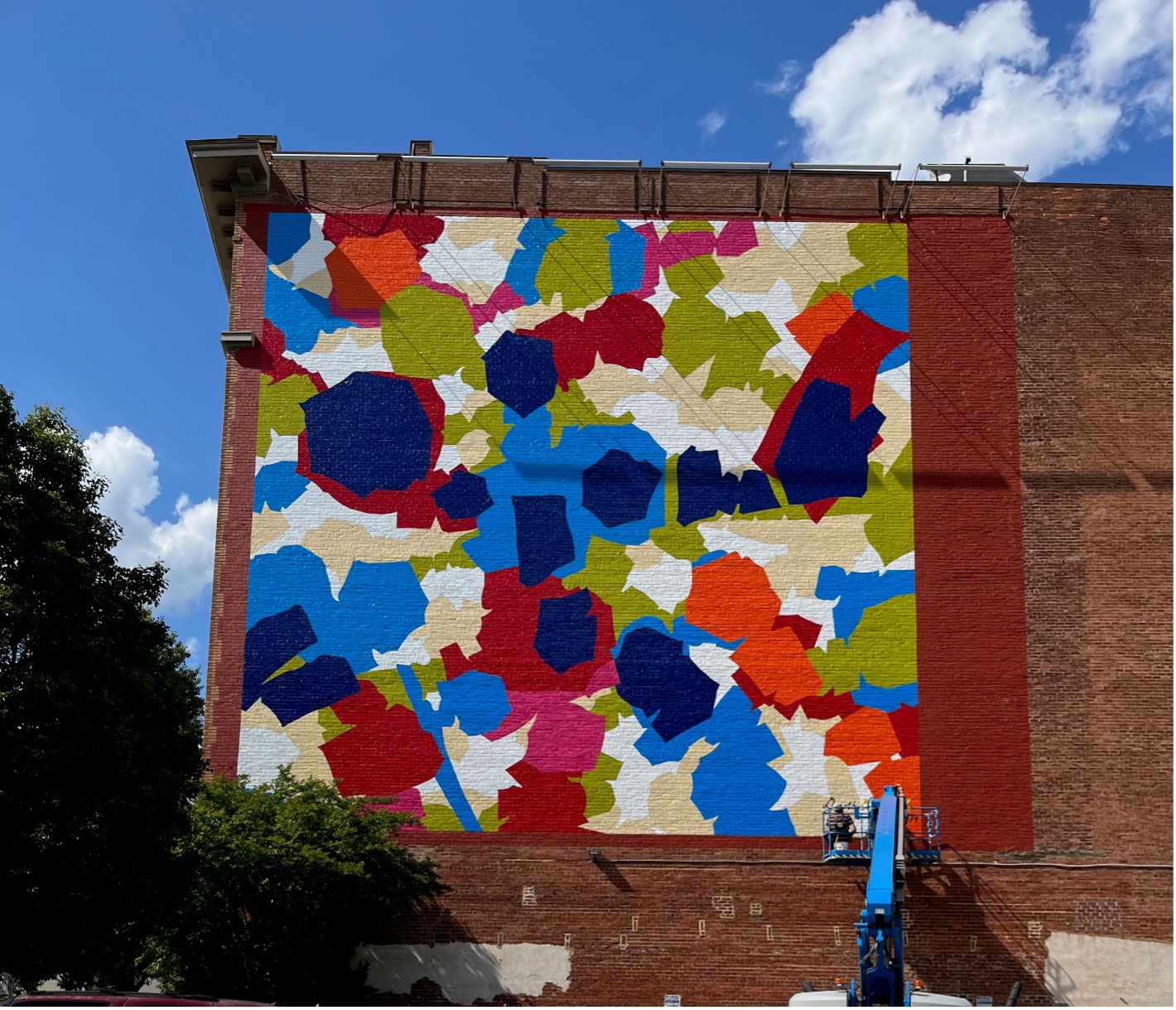 Found on the wall of Roanoke's 312 2nd Street, the remarkable 40-year-old piece by Gillespie has been revitalized and refurbished with vibrant bursts of color. Through a collaborative effort between the artist and the local arts community, this piece stands as a testament to the artistic culture and storytelling that thrives in downtown Roanoke, maintaining its significant presence even today.
Read the full story here: https://roanokearts.org/mural/
3. Nil Westergard (2020)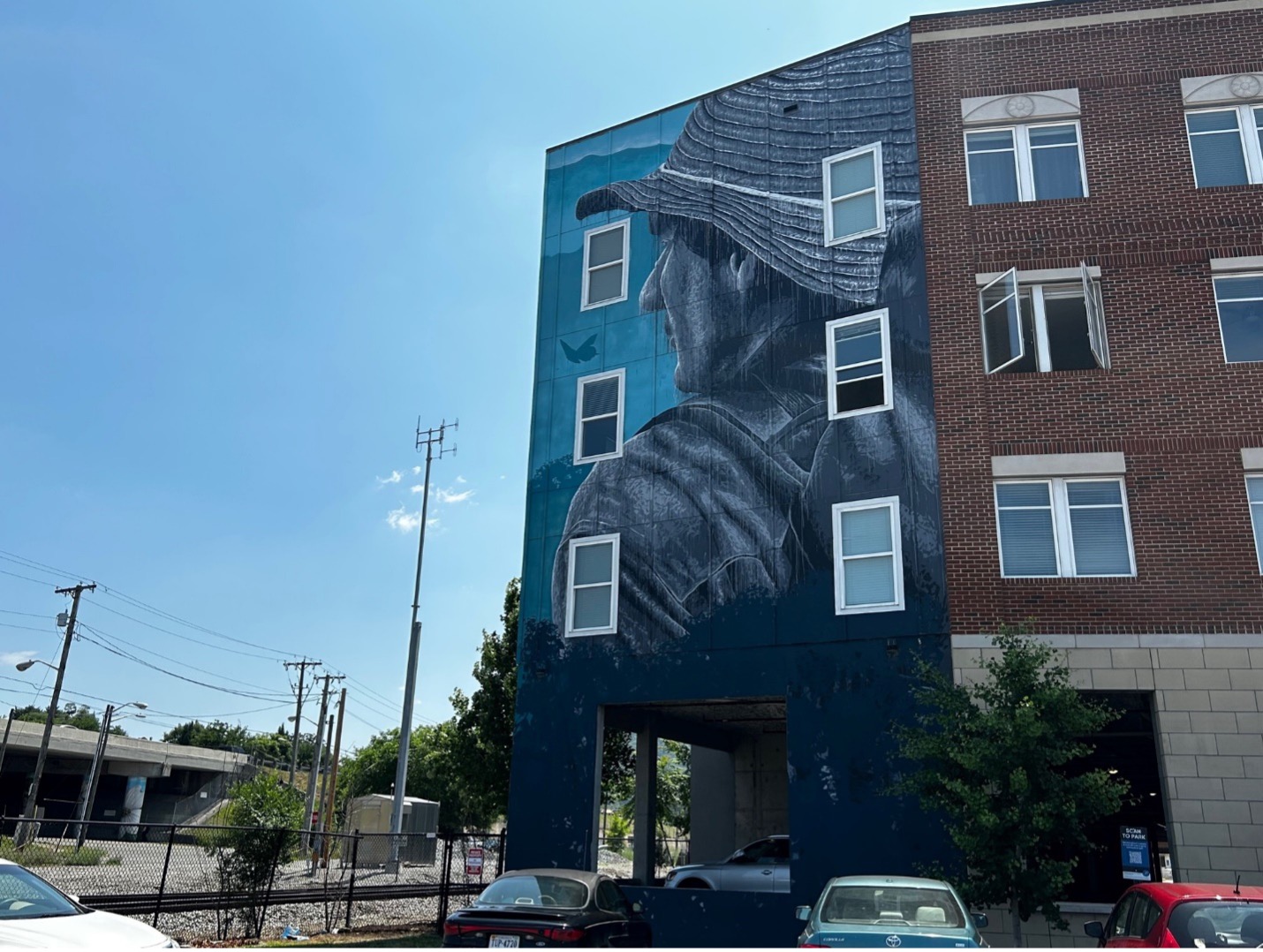 Found on our very own Gramercy building, Westergard captures a man gazing out towards the scenic Blue Ridge Mountains. This particular piece showcases Westergard's penchant for tackling ambitious projects, as it covers an impressive four floors of the Gramercy building. Take a look at this piece the next time you stop by HAWK!
Find more of Nil Westergard's pieces on Instagram: @nilsrva
4. James Bullough, ONUR, and assisted by Jon Murrill (2023)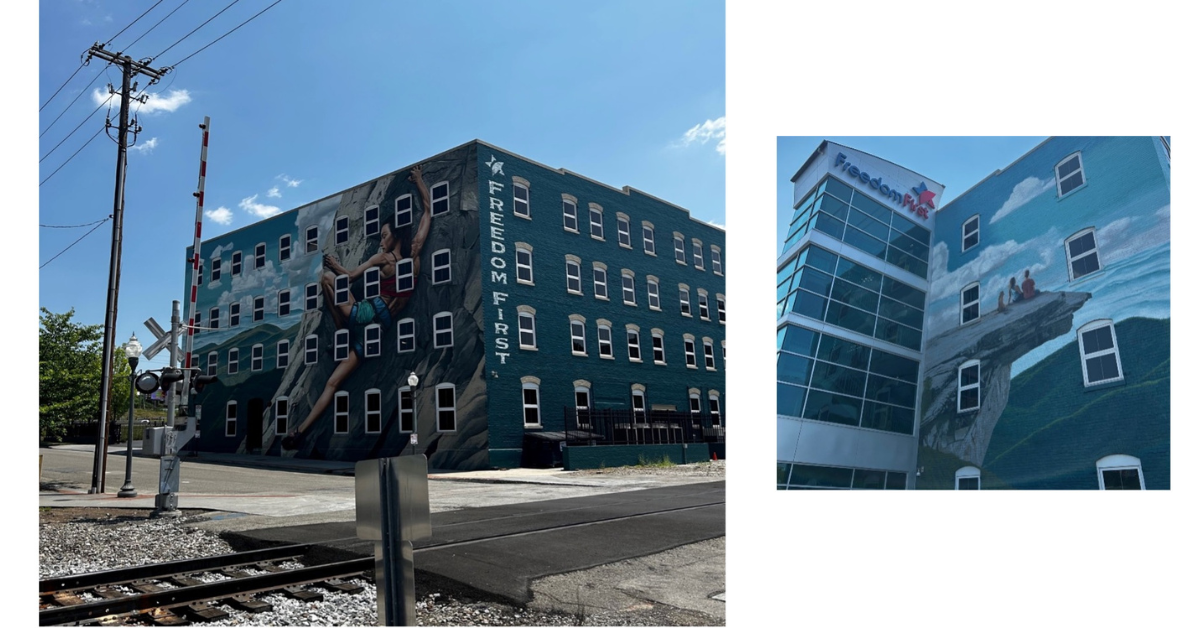 Downtown's newest mural, pictured here on the Freedom First Credit Union building, captures the essence of recreation and the picturesque landscapes found surrounding the city of Roanoke. Depicting a determined woman scaling a cliff, the mural embodies our community's deep-rooted passion for the outdoors while simultaneously celebrating the flourishing art culture within the area. Completed this May, this impressive portrait spans the entirety of the wall facing the corridor adjacent to Williamson Road; it even stretches around the corner to showcase McAfee's Knob!
Read the full story here: https://www.wdbj7.com/2023/06/01/downtown-mural-freedom-first-building-is-complete/
Find more from Bullough, ONUR, and Murrill on Instagram: @james_bullough @onurpainting @jonmdraws
Equally as unique to the city are the remnants of old signage, embellishing the streets with a nostalgic charm and preserving rich history of Roanoke, VA.
Over the years, the City of Roanoke has continued to restore these vintage advertisements, many of which are several decades old (some nearing a century)! These pieces serve as a window into Roanoke's past, signifying its development from a small county in the 1740's to a bustling city in 1884. As proud Roanoke natives, we are continually inspired by the ongoing revitalization of our beloved town; share your appreciation for the rich art history of Roanoke by sending this blog to a friend!