Safety should be cost-effective, flexible, and rewarding
HAWK Safety Advisers are loss control and safety management specialists.  Our model is designed to improve efficiency, reduce exposures and lower your total cost of risk.  It is fair to say that we are confident in our ability to deliver measurable results.  We invite you to schedule a no-cost introduction to better assess your operational needs and objectives.
Use the menu below for information on our service packages or contact us to build your own.
Needs Assessment
A written report and action plan identifying areas where safety performance may be enhanced or improved. 
The process starts with a fact-finding interview to evaluate needs and discuss objectives.  We will furnish and review a written report with key members of your operations.  The action plan will include a suggested follow-up schedule with a tentative agenda for each visit.  Each subsequent visit will be priced separately or packaged together as monthly or quarterly visits. 
Written safety program analysis
Primary worksite evaluation
OSHA reporting and training
In-house safety inspection process
Hazard communication
Modified/light duty program
Management systems, practices and procedures
Employee safety culture
Fleet management
Motor vehicle records
Driver policies
Supervisor Training
Invest in training for your supervisors and solicit their feedback for improving workplace safety.
We will engage your supervisors through a combination of training and open discussion.  This includes assigning responsibilities and applying leadership skills to become effective safety leaders.  We will furnish customized training material to assist supervisors with the tools and methods to incorporate safety into their daily management process. 
General supervisor duties
Effective communication
Workplace evaluations
Accident investigation
Personal protective equipment
Hazard communication
Claim reporting procedures
Assess safety training and resources
Safety committees
Employee Orientation
Bring your employees together for a training session where we will cover the basics of safety.
We will gather together your employees for a 1-hour session on the basics of safety and an overview of company safety rules.  Employees will engage in an interactive slide presentation, discuss elements of the formal safety program and attest to the receipt/understanding of company safety rules. 
General safety rules
Personal protective equipment
Fall protection
Ladder safety
Scaffolding safety
Electrical safety
Defensive driving
Back safety & proper lifting
Housekeeping
Fleet Management and DOT
Assistance provided to evaluate current fleet operations and compliance with the Department of Transportation.
A formal report will be reviewed with key members of the fleet operations team.  Special emphasis will be placed on driver files, driver logs, hiring practices, driver training, and maintenance practices and records.   
Customized self-inspections
Physical feet inspection
SAFER review
GPS use
Dispatch
Log review
Safety meetings
Accident investigation
Defensive driver training
SAMPLE fleet safety programs
Other A la Carte Services
These services may be added to any of our packages or let HAWK Safety Advisers tailor a package that is right for your business needs.*
OSHA requirements (GHS, Confined Spaces, Bloodborne Pathogens, Fall Protection, Record Keeping)
Regulatory dispute resolution
Safety programs
Machine guarding
Job safety analysis (JSA's)
Plant or worksite inspections
Lockout/tagout
Motor vehicle safety
Safety consultant retainer
*Hourly rates apply with a 3-hour block minimum.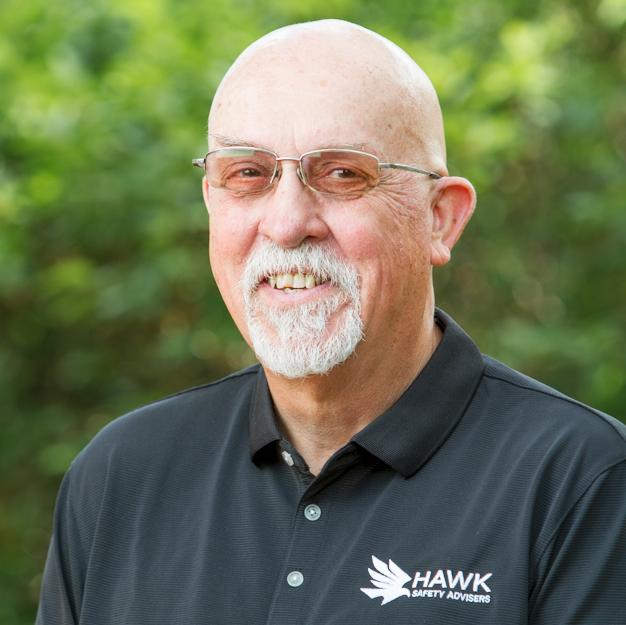 Linsey Borders, ARM, ALCM, CDS
Linsey is a safety generalist with 37 years' of experience servicing manufacturing, construction, hospitality, recreation/amusement, electrical utilities, fleet operations, and social service organizations.   Most recently, Linsey held the position of Sr. Loss Control Consultant/Fleet Specialist for a National Insurance Carrier.  Linsey has worked as a field supervisor for a construction company and HR manager for a national firm with over 4,000 employees in 40 states.
"I enjoy assisting clients by applying what I learn about their operations and breaking down their needs into small obtainable goals.  The objective is to lower costs, improve efficiencies and reduce exposures."
Linsey offers professional assistance with safety programs, training presentations, loss prevention, hazard analysis and plant/worksite inspections.
Linsey is a proud veteran who served in the Navy for 7 years and attended the US Naval Academy.  He holds a bachelor's degree in Industrial Technology as well as an associate degree in Architecture.  Over the course of his career, he also earned ARM (Associate in Risk Management), ALCM (Associate in Loss Control Management) and CDS (Certified Director of Safety) designations.
Linsey uses his skills and experience to provide practical safety management services to companies that value loss control as an important part of their brand identity.